Learn About Memorial Day in USA

About America's Memorial Day
Memorial Day was originally known as Decoration Day because it was a time set aside to honor the nation's Civil War dead by decorating their graves. It was first widely observed on May 30, 1868, to commemorate the sacrifices of the Civil War soldiers, by proclamation of General John A. Logan of the Grand Army of the Republic, an organization of former sailors and soldiers. On May 5, 1968, Logan declared in General Order No. 11 that:
Sun-Safe Your Kids And Your Summer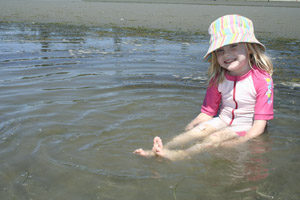 School's out and kids are soaking up every bit of summer staying out till dark and keep cool and the pool. But just because it's not summer doesn't mean there aren't important lessons to teach your children. Summer is a perfect time to teach your kids about how to be sun safe and the earlier you start the better it is for them.
Shop Amazon - Get Ready for Summer - Everything You Need
It has been shown that prolonged exposure to ultraviolet rays (UV) in childhood is one of the most common causes of skin cancer down the road. Dr. Mary Lein states that even one or town heavy sunburns can increase the risk of developing melanoma. "That's why it is so important to emphasize prevention early in life," Dr. Lein says.
Learn To Solve Cooking and Kitchen Challenges

How To Reheat Pizza
Looking for a solution for the soggy pizza problem?
Try this -- Heat up leftover pizza in a non-stick skillet on
top of the stove, set heat to med-low and heat
till warm. This keeps the crust crispy. No soggy
micro pizza.
How To Have Perfect Deviled Eggs
Summertime means picnics. And picnics and parties call for deviled eggs.
How to Set and Succeed With Your New Year's Resolutions This Year
How to set and accomplish goals or resolutions
About 70 percent of the population of the United States has resolved to make a resolution this year, a promise to take charge of their own lives and change them for the better. Fewer than 10 percent of these people actually follow through on their resolutions, but nobody ever stops to think that that could be them.
Americans Are Getting Super Sized

Businesses are reporting more Americans are sampling healthy eating options. A new study reports that almost two-thirds of U.S. adults consider themselves healthy eaters.  One indication of changing grocery cart contents was reported in the annual survey of American Eating Trends.  The number of Americans reporting they are buying more fruit increased last year, reversing a 14-year decline.  If America is eating healthier, why is it getting fatter? Many dieticians and nutritionists are pointing to portion size as a key reason more people are becoming super-sized.