Education
Cyber Bullying Tips For Parents
Cyber bullying behaviors are growing across the world wide web like a pandemic. The behavior is personal and pollutes peace of mind. Nearly half of American tweens and teens are being impacted by it. As children's computer skills begin at younger ages, so do their cyber bullying behaviors.
Definition: Cyber bullying is the use of Internet e-mail, instant messaging, chat rooms, pagers, cell phones, or other forms of information technology to deliberately and repeatedly hurt, taunt, ridicule, threaten or intimidate someone.
Software: Consider installing filtering and blocking software, but understand clearly that proactive parents are the only real deterrent and the best resource for bullying preemption. Block incoming messages from bullies by email address and IP..
Resources Center USA: Parenting
Resources Center USA is an information resource, providing resources, articles, holiday history and guides, how to tips for career, parenting, teachers, health, and business growth. Shop at Resources Center and win three ways (1) Great prices and Products (2) Your are helping to support Bullying Prevention Foundation (3) All items backed by Amazon.com customer satisfaction guarantee.
Teach Your Child To Set and Reach Goals
Parents can help their children have more success in life and in school, by investing the time to teach them how to set and reach goals. One day it might be the goal of earning a college scholarship; today the challenge might be being ready when the school bus comes. Think of it as a time investment. Break the task process into baby steps. You are teaching your child the fundamentals as they accomplish a step by step process of skill building.
Learn About Memorial Day in USA

About America's Memorial Day
Memorial Day was originally known as Decoration Day because it was a time set aside to honor the nation's Civil War dead by decorating their graves. It was first widely observed on May 30, 1868, to commemorate the sacrifices of the Civil War soldiers, by proclamation of General John A. Logan of the Grand Army of the Republic, an organization of former sailors and soldiers. On May 5, 1968, Logan declared in General Order No. 11 that:
Parents - Safety Fun Tips For Day at the Beach or Pool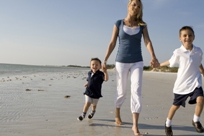 Are you and your family off to the beach or pool next weekend? Find that great water proof beach bag with lots of pockets or get a new one. You can even make your own as a family craft activity using plastic trash bag, duct tape and cord. Once you have the bag, you will need to research the beach, pool and surrounding areas.
Once safety research is completed, you will need to go over safety tips with your child. The beach and the pool are can be excellent place to build those special moments with your family. It will take some preplanning. Most of all, you will want to make certain that your loved ones are safe.
Read more: Parents - Safety Fun Tips For Day at the Beach or Pool
Subcategories
Learning

Learning, Lessons, How To, Personal Growth, Teaching