Christmas Countdown
Make sure that everyone you know is ready for the holidays by sending them a Christmas Countdown!
Thanksgiving
Thanksgiving Holiday And Its Celebrations
Thanksgiving Day is the fourth Thursday in November, but many Americans take a day of vacation on the following Friday to make a four-day weekend, during which they may travel long distances to visit family and friends.
The holiday dates back to 1621, the year after the Puritans arrived in Massachusetts, determined to practice their religion without interference of the government. After a rough winter, in which about half of them died, they built a friendship with neighboring Indians, who taught them how to plant corn and other crops that could flourish in New England's soil and climate.
The next fall's bountiful harvest inspired the Pilgrims to give thanks by holding a feast and celebration for their friends and community.
US History Independence Day
America's Birthday Independence Day July 4th
Happy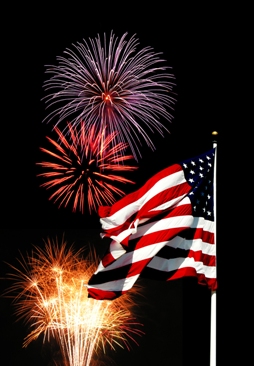 Birthday America. Thursday, July 4th, 2015 will mark America's 239th birthday.
She is still looking good for a woman of that age.
WHERE IT BEGAN: By the middle of the 1700's, the 13 colonies that made up part of England's empire in the New World were finding it difficufficult to be ruled by a king 3,000 miles across the Atlantic Ocean.

They were tired of the taxes imposed upon them. But independence was a gradual and painful process. The colonists could not forget that they were British citizens and that they owed allegiance to King George III.
A "tea party" and a "Massacre" were two events that hurried destiny.

Along with general unrest these events united the colonists.
Virginia
took the first step towards independence by voting to set up a committee to represent the colonies.
When is Fathers Day? 2013 2014 2015
Wonderfing When is Father's Day Celebrated in USA?
When is Fathers Day?
2012 June 17
2013 June 16
2014 June 15
2015 June 21
2016 June 19
Shop Amazon - Father's Day Gifts
Fathers Day: Parenting Quotes and Tips

My father gave me the greatest gift anyone could give another person, he believed in me.
- Jim Valvano
Veterans Day Honors Those Who Serve
Veterans Day Holiday History
Formerly Armistice Day, Veterans day is a holiday observed annually in the United States in honor of all those, living and dead, who served with the U.S. armed forces in wartime.
Some states observe the holiday on November 11 and other on the fourth Monday in October. Armistice Day, the forerunner of Veterans Day, was proclaimed in 1919 to commemorate the termination (at 11 am on November 11, 1918) of World War I. On the first anniversary of the truce, U.S. President Woodrow Wilson issued a proclamation eulogizing fallen Allied soldiers and referring to November 11 as Armistice Day. It became a holiday in the U.S., France, Great Britain and Canada.
The holiday acquired its present name and broadened significance in the U.S. in 1954. In Canada it is known as Remembrance Day, and in Great Britain, as Remembrance Sunday.
Veterans Day Festivities And Facts
►Among the nation's veterans, approximately 6 million served in World War II, 4 million served in the Korean War, 8 million during the Vietnamera and 3 million in Persian Gulf War.
►There are 26.4 million veterans in the United States; this is a ratio of about 1-in-8 U.S. civilians 18 and over, or 13 percent.
►Thirty-seven percent of civilian veterans are over the age of 65.
►Seventeen percent of Alaskan civilians 18 and over are veterans, the highest rate in the country. Other states where 15 percent or more of the adult, civilian population are veterans includ Arizona, Florida, Maine, Montana, Nevada, New Hampshire, Oregon, Virginia, Washington and Wyoming.

Veterans Armstice Day MoreVeterans Day Honors Those Who Serve