Review: Smart Phones Now Smarter Business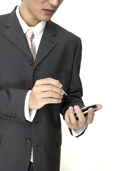 Smart phones, or sphones as technophiles take delight in calling them, are handheld devices that offer an array of electronic functions. In the most basic sense, a smart phone is a mobile phone - PDA (personal digital assistant) hybrid that may enable users to access email, browse the Internet, write notes, listen to music, make voice recordings, and use a wide variety of other applications typical of a personal computer. In recent years, almost all new phones come with some degree of smart phone characteristics, and as such, it can be hard to know which model of phone is best for you.
Technology Trends Best In Consumer Electronics
Over 140,000 people arrived in mass for the 2007 Consumer Electronics Show (CES), the annual showcase for revealing cutting edge and emerging technology and the companies that produce it. Tech watchers can always count on the gathering as a harbinger of the year's biggest stories. Last year's show featured duo-core laptops and hybrid hard drives with flash memory components, both of which were top technology items for the year.