Parenting
Eleven Fun Fitness Activities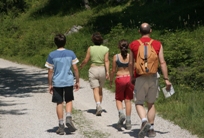 Summer time family fun...that is what it is all about.
Family hikes, picnics, family reunions, family trips, etc. Here are some fun fitness activities for you and your family. So, let's us see who is the fittest....the kids or the adults.
Many family memories will be made by playing these interactive games. Take the time to laugh and have fun making and playing theses games with your loved ones. "Let the games begin!"
Parent and Child Family Fun and Games Resources Center